irshi Videos News latest,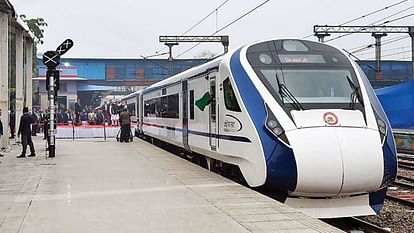 vande bharat train iconic image
– Photo: Amar Ujala
Expansion
Indian Railways has issued a production plan for 102 Vande Bharat rakes (35 in 2022–2023 and 67 in 2023–2024) as per Indian Railways design and within Indian Railways manufacturing units. PH 21-Provision of Vande Bharat trains along with other parts of coaches is covered under the coach plan, for which an amount of Rs 19479 crore has been provided in the revised plan for the financial year 2022-2023. Union Railway Minister Ashwini Vaishnav gave this information in a written reply to a question in the Lok Sabha on Wednesday.
The Union Minister informed that the first Vande Bharat Express has been started between New Delhi and Varanasi from February 15, 2019. Currently, 10 pairs of Vande Bharat Express are running in the Indian Railways network. Indian Railways has planned to manufacture 400 Vande Bharat trains, which has been invited for selection. Apart from this, 8000 Vande Bharat coaches have also been proposed under the budget 2023-24.
A new policy was implemented for rail cargo
A new Gati Shakti Multi-Modal Cargo Terminal (GCT) policy was launched on 15 December 2021 to encourage investment from industry in developing additional terminals to handle rail cargo. These terminals will be built on non-railway land as well as partly or wholly on rail land. The target is to commission 100 Gati Shakti transit stations in three financial years – 2022-23, 2023-24 and 2024-25, out of which 30 GCT stations have already been commissioned. To date, 145 applications have been received and 103 general approvals issued for the development of freight terminals under the GCT policy.
,