irshi Videos News latest,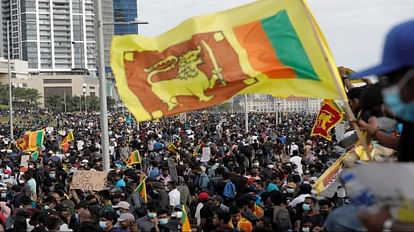 strike of Sri Lanka
– Image : Agency (File Image)
Expansion
The Sri Lankan government has taken a tough stance towards the workers who went on strike. The government has directly claimed that the aim of the trade unions is not to get their demands accepted, but to damage the loan program of the International Monetary Fund (IMF). The International Monetary Fund has agreed to provide an additional $2.9 billion loan to Sri Lanka, which is facing an economic crisis, but has asked the Sri Lankan government to meet several conditions to receive it. According to this, the government has made many services, including electricity, expensive and has increased the income tax rate. Trade unions of different industries have gone on strike against these conditions.
Sri Lankan government spokesman Badula Gunawardene has argued that the demands of the unions are totally unfair. He called the strike a "betrayal" to the country. He said that the country's condition would improve after receiving the loan from the IMF. After that it will be easy for Sri Lanka to get loans from Asian Development Bank, World Bank etc. The Sri Lankan currency will increase in value after receiving the loan. Gunawardene argued that government workers would benefit the most from an improving economy, while their unions were putting obstacles in the way of getting loans from the IMF.
It is planned that the IMF board meeting will be held on March 20. It is likely to decide to issue a $2.9 billion loan to Sri Lanka. Referring to this, Gunawardene asked the unions not to "go down the path of fraud and deceit by making unreasonable demands".
At the same time, the government has declared rail services as an essential public service to stop the rail workers' strike. According to this, all the holidays of the railway employees have been cancelled. According to this, it has been mandatory for employees to come on duty starting Wednesday. If any employee violates this order and his explanation is not satisfactory, strict action will be taken against him.
Meanwhile, Sri Lanka's leftist opposition Janatha Vimukthi Peramuna (JVP) has also refused to give unconditional support to the strike. Lal Kanta, a trade union leader associated with the party, said an indefinite strike would not be supported. However, the JVP has decided to support the trade union actions that will be held on March 15, the first day of the strike.
About 50 trade unions in Sri Lanka have called a strike. These include the trade unions of electricians and dock workers, university and school teachers, bank employees, health workers, etc. The Central Bank of Sri Lanka Employees Union announced on Tuesday that its members would also join the strike. The employees of the postal department have also announced their participation in the strike. Currently, workers in some sectors have decided to go on strike only for 24 hours. But most of the unions have gone on an indefinite strike.
,