Shiv Sena Bkc Sabha: Shiv Sampark Abhiyan: Hindutva, development works, inflation; Trisutri of Shiv Sena meeting, Ayodhya tour on 15th June – Marathi News | shiv sampark abhiyan hindutva development work inflation trisutri of shiv sena sabha ayodhya tour on 15th june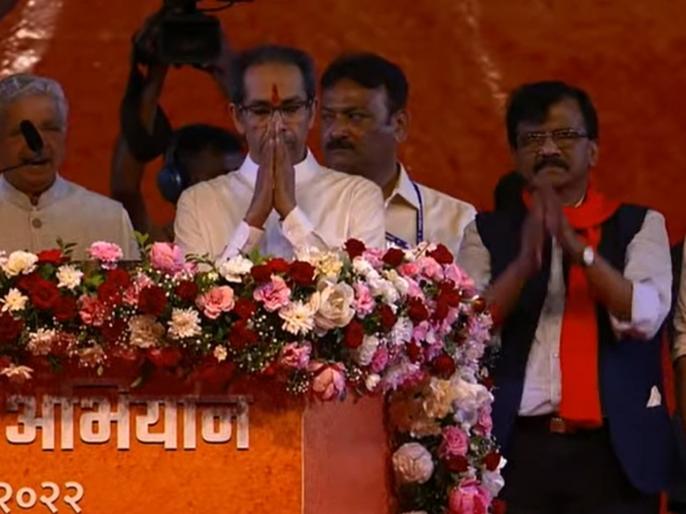 Gaurishankar Ghale, Lokmat News Network
Mumbai: On the one hand, Shiv Sena chief Balasaheb Thackeray's legacy of Hindutva, on the other hand, the calendar of the work done by the state government during the Kovid period and the subsequent rising inflation, criticism of the central government over unemployment, were seen in the public meeting of Shiv Sena's Bandra-Kurla complex. In his speech, Environment Minister Aditya Thackeray himself targeted Prime Minister Narendra Modi and Finance Minister Nirmala Sitharaman.
The second phase of Shiv Sampark Abhiyan was started with a meeting at Bandra. This time, Aditya targeted the central government over lockdown and inflation. In the state, we were gradually imposing restrictions. However, the central government announced a lockdown in one fell swoop. Yet we did not waver. In the Corona era, whenever Chief Minister Uddhav Thackeray wanted to make Facebook live, he did not feel that any Chief Minister was giving instructions. So, it seemed that the head of the family was telling me how to take care of him. Saying that his leadership is so sensitive, Aditya Thackeray targeted the central government. So, where did the inflation go up, it went up a little bit, said Union Finance Minister Nirmala Sitharaman. This is their sensitivity, he added.
Ministers Subhash Desai, Eknath Shinde, Gulabrao Patil in their speeches gave an account of the work of the state government in the last two and a half years. Awakening the memory of Shiv Sena chief Balasaheb Thackeray, he gave proof of Hindutva heritage. Also, the BJP was targeted by the Central Investigation Agency through this meeting.
Shiv Sena's tour of Ayodhya on 15th June
– Shiv Sena's Ayodhya tour has been postponed for five days due to Rajya Sabha elections. The Ayodhya tour, led by Shiv Sena leader and Environment Minister Aditya Thackeray, will now take place on June 15 instead of June 10, announced Sanjay Raut.
– Rajya Sabha elections have been declared and MLAs and MPs have to be in their respective states. Therefore, this tour will now be on 15th June instead of 10th June. Maharashtra will bow before Shri Ram, said Raut.
I saw Balasaheb in you – Aditya Thackeray
At the beginning of his speech, Aditya Thackeray bowed before the audience. The first line of the meeting is in Bandra and the last line is in Kurla. Seeing the crowd, I wanted to walk too. In this crowd I saw Panchmukhi Hanuman, Ramsita, Lord Shankar, Vighnaharta Ganapati. These Shiv Sainiks are our armor. Today in you I saw my grandfather Shiv Sena chief Balasaheb Thackeray, my grandmother. Therefore, we bowed down, said Aditya Thackeray emotionally.
No need for your support – Eknath Shinde
Shiv Sena will not be scared as Ida-Pida is behind. The misuse of central investigative mechanisms is not conducive to democracy. Development work is the answer to the waffle criticism on Shiv Sena. When the ongoing development work in the state is completed, the face of Maharashtra will change. Bhonge, the issue of Hindutva is being deliberately scrapped. Some new Hanuman devotees are trying to uplift the Dronagiri of Hindutva through Hanuman Chalisa. But, it has already been picked up by Balasaheb. He doesn't need your support, you don't need it, you don't need it.
Our father Balasaheb – Sanjay Raut
Shiv Sena will not bow down to anyone, nor will it bow down to anyone. We will continue to struggle. Today's meeting is the father of a hundred meetings. Today's meeting says that Mumbai's father Shiv Sena is only Shiv Sena. If you want to see, if you want to try, come to Mumbai. Mumbai's father is Shiv Sena and our father is Balasaheb Thackeray. Sanjay Raut said.
Web Title: shiv sampark abhiyan hindutva development work inflation trisutri of shiv sena sabha ayodhya tour on 15th june
Get Latest Marathi News , Maharashtra News and Live Marathi News Headlines from Politics, Sports, Entertainment, Business and hyperlocal news from all cities of Maharashtra.
.