irshi Videos News latest,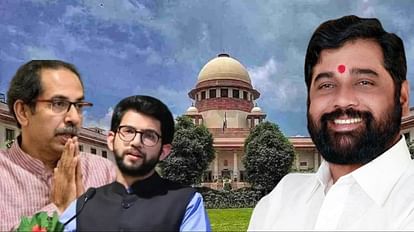 Proceedings in the Supreme Court.
– Photo: Amar Ujala
Expansion
The Supreme Court has made an important observation while hearing the Maharashtra political crisis on Wednesday. The Supreme Court has said that calling for a vote based on differences among ruling party legislators can topple an elected government. As such, differences among political parties alone cannot be sufficient reason for a governor to call for a floor test.
The role of the governor is a matter of concern
A five-member constitution bench headed by Chief Justice DY Chandrachud, which was hearing cases related to the June 2022 ouster of the Shiv Sena government in Maharashtra by pro-Eknath Shinde MLAs, said differences between legislators within the party could not be resolved on any assumptions. as the payment of development funds or deviation from party ethics, but can that be sufficient basis for the governor to call for a floor test? They are concerned about the role of the Governor in this matter. The bench said that no governor should enter the territory where his action would lead to a certain result. With this, people will start cheating the ruling party and the governor will complete the ruling party. It would be a sad spectacle for democracy.
The bench made these comments after lawyer Tushar Mehta, who appeared for the Maharashtra governor, narrated the sequence of events. He had told the bench that the governor had various materials, including a letter signed by 34 Shiv Sena MLAs, a letter from independent MLAs that had prompted the Uddhav Thackeray government to order the trust vote.
,