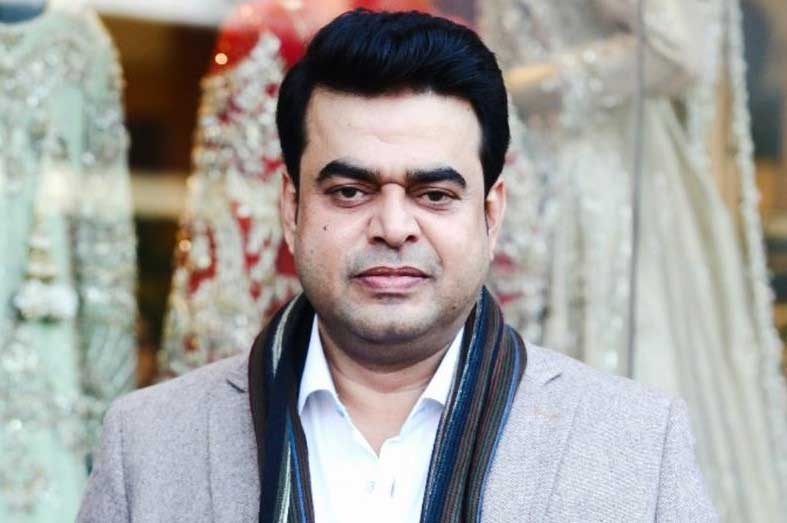 Pakistan's top designer Moazzam Khan was the creative-guru
behind the label "Rizwan Moazzam"; over a thousand artisans
Craftsmen are supporting their families through their organization
TFD Report
Karachi: Pakistan is the eighth largest exporter of textile products in Asia. It is the fourth largest producer and third largest consumer of cotton. It comprises 46% of the total manufacturing sector and provides employment to 40% of the total labor force. 5% of the total textile companies are listed on the stock exchange. There are 423 textile industries operating in the country. Pakistan has a supply base of almost all man-made and natural yarns and fabrics including cotton, rayon and others. This abundance of raw materials is a huge advantage for Pakistan due to its beneficial effect on cost and operational lead time.
Over the past few decades, Pakistani dress designers have used their intelligence to create unique and trendy designs of clothing and enhance the positive image of Pakistan both domestically and internationally. One of them is Moazzam Khan who has achieved a prominent position in this industry in a very short span of time by virtue of his incredible experience, skills and faith. Today the clothes designed by him have gained national and international fame.
With nearly three decades of experience under his belt, Moazzam Khan has been a well-known and coveted name among the fashion fraternity. Working in collaboration since 1993, Moazzam Khan was the creative-guru behind the label "Rizwan Moazzam". They parted ways in 2017 to follow their passion and give their aesthetic sense more room to experiment and play.
The main focus of Moazzam Khan has been Bridal Dresses. From the concept to the actualization of the costume, he is actively involved in each step to ensure that the costume comes out exactly as he envisioned.
Khan explains that "Fashion is one of the sensitive arts of design, design, aesthetics, manufacturing of clothing and applying natural beauty to clothing and its accessories. It is influenced by culture and various trends, and has varied with time and place. Clothing design means creating modern clothing by enhancing or changing existing designs to perform new functions. The design task of clothing involves selecting a style, color, and material to meet specified functional requirements. It is essential to have a high-functioning and dedicated team for all such performances."
Moazzam Khan leads a huge team of around 2000 artisans. Hailing from different parts of the country, these hand embroidery laborers are masters of their art. Moazzam considers them to be an important pillar of his organization and strives for their well being. Special attention is also given to their training to keep them in line with the demands of modern fashion.
Over a period of years, Khan came to know that during the time period of his career, there were many skilled craftsmen and craftsmen who lit the midnight oil to bring life to his creations. These craftsmen who came to him without any training or experience have honed their skills over the years and are now masters of their craft. Yet, they could not alleviate the poverty and improve conditions of their families. Coming from a predominantly rural background, their focus has been on earning their livelihood to provide for their families back home, some of whom lack even the most basic necessities of life.
Keeping these factors in mind, Moazzam Khan along with his team worked tirelessly to set up a body that would not only look after the interests of these craftsmen, but would also take well measured and effective steps to ensure that they are able to improve the life of their family. conditions.
"The mission is not only providing employment but also adding value to lives. These craftsmen work on various elements of the designer's creations on their own merits, these are all hand work and hand embellishments, ensuring that each piece of clothing is handled with utmost love and care. Every stitch is the result of dedication of labor."
"Our main focus is to enhance the existing skills of these craftsmen by providing them on-the-job training to allow them to work at the same time to earn their livelihood. They receive formal guidance from their supervisors and colleagues and are provided with tips and tricks to further improve their business. We have also realized the fact that these artisans must possess all the necessary skills needed to find suitable work elsewhere, to be closer to their families, as they decide to leave/relocate to be closer to their families. because most cannot afford to bring their families. Urban cities due to financial constraints. This is executed with the idea of ​​ensuring that these craftsmen can easily get gainful employment within the fashion industry, as there is always a demand for skilled craftsmen. We care, respect and love all those who are sincerely associated with us in any form in our meaningful journey, instead of business, we care about humanity," Moazzam Khan told TFD .