Usually we have heard and seen that people who work in this company say 'what are you doing sir, late to reach Baroda in Bangalore traffic' even if they come a little late to the office. 'Hey! No matter where you go, you can always hear this word from the mouths of Bengaluru people. It will not be wrong to say that the traffic in Bangalore has increased to that extent.
In a way Bangalore city is known for its narrow roads and IT industry. People have reported on several occasions in the past that they had trouble driving on the city's pothole-ridden roads. Most of the incidents that happen in Bangalore are due to this traffic problem in one way or the other.
A love story born in Bangalore's traffic jam
You won't believe that even these annoying and tiring traffic jams of Bangalore have positive stories. Here's a love story born out of getting stuck in a traffic jam. After this love story was shared on Twitter, Sikkapatte also went viral.
A reddit user from Bengaluru said "I met my wife for the first time near Sony World Signal. I can say that my love story started from there. One day I was dropping her home and we got stuck in traffic somewhere nearby due to work on Easypura flyover. We were very frustrated and hungry while standing in traffic, so we We diverted the bike and had lunch at a nearby hotel. Since then I dated her for 3 years and married her for 2 years now, but the 2.5 km long flyover is still under construction."
Also Read: Car Stuck In Traffic, Doctor Rushed To Hospital To Save Patient!
A screenshot of his Reddit post was posted on Twitter, which has amused thousands of users. More than 4,000 people have liked and commented on the post on Twitter. Social media users took this beautiful love story aside and narrated their own bad experiences with congested traffic in Bengaluru.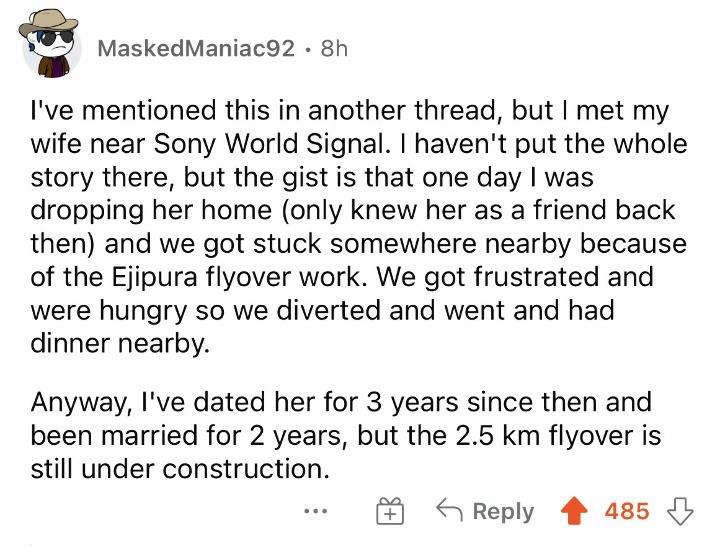 Tweet
Here are the responses to this post.
"That flyover has been under construction since I was in Bangalore," said one user.
Another user asked about his married life, jokingly asking, "Does he still get caught on purpose like when he was dating? Some things change after marriage."
Although traffic congestion is a terrible problem in the city, people seem to adapt to it. Many online memes have been made about Bengaluru traffic and this too has gained a lot of prominence.
Also Read: Bangaloreans, these roads are completely closed today, use alternative routes for traffic
Even the romantic short film "Silk Board, A Traffic Love Story" can be said to have been inspired by Bengaluru's ever-crowded Silk Board Junction.
Read breaking news first in News 18 Kannada. Get daily fresh news, live news update on Believer News 18 in Kannada
.