irshi Videos News latest,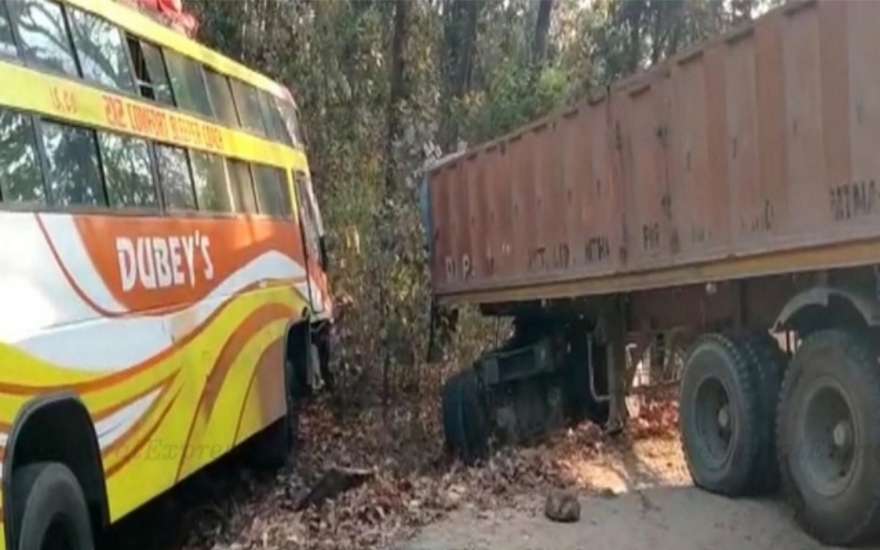 Ambikapur. Bus accident: A bus full of passengers bound for Raipur Bihar collided with an oncoming trailer on the Ambikapur-Ramanujganj highway. The collision between the vehicles was so severe that the front part of the bus was badly damaged, but the passengers were in tears. As soon as the information was received, the police arrived at the scene and took the seriously injured driver to the hospital. Passengers in the bus suffered minor injuries. They were sent to their destination by another bus.
Dubey bus runs from Raipur to Bihar. On Wednesday morning, she was going to Bihar with about 30 passengers from Raipur and Ambikapur. The bus had just reached near Dumarkhi Dhaba next to Balrampur on Ambikapur-Ramanujganj NH 343 when it collided with a speeding trailer coming from the front.
After the accident, there was crying and crying among the passengers. After the accident, passers-by informed the police. As soon as the information was received, police officers and traffic departments from Balrampi reached the spot and got the bus to evacuate.
The driver of the bus was seriously injured in the accident. He was admitted to the Balrampur District Hospital, but the passengers sustained minor injuries.
Also Read: CAF jawan strangled his wife and buried her body in the river, a month before the legal marriage
sent by another vehicle
This is where the trailer driver left after the accident. The passengers were made to sit in another vehicle by the police and sent to their destination. At the same time, the police have seized the trailer and started further operations.
,