After a popular and controversial first season, Netflix's Indian Matchmaking is back in search of love with Mumbai's more elite and American desi (diaspora South Asians). The show offers a glimpse into the matrimonial conversation and arranged marriage process directed by matchmaker Seema Taparia. Contestants and their families outline their priorities – from values ​​to profession, hobbies to looks – and scrutinize potential partners.
While some criteria are more or less clear ("dogs should be preferred"), others, such as "good education", serve as implicit references to social class. In India – like around the world – good education is synonymous with English-medium education.
This is where English is the language through which all subjects are taught – a model supported by fee paying institutions. English speakers are widely considered to be more educated, more prosperous, more modern.
August completed 75 years of Indian independence from British colonial rule. But the English language continues to play an important role in perpetuating inequality. For years it was accessible only to the wealthy.
Over the past two decades, with changes in India's economic policies, English has become more widely accessible and demand continues to increase. Part of this is due to the long-standing reputation of speaking English, and the story that investing in English can lead to opportunity and success.
Young Indians are feeling the pressure to speak English, both to increase their chances of securing a professional job and to increase their chances of finding a good match for marriage. Aspiring unmarried women from the middle class are bearing the brunt of the pressure.
In my ethnographic research, I looked at how English relates to social mobility in India. I spent several months working with young adults at a free English and job training organization on the outskirts of South Delhi.
While most students enrolled were expected to become socially mobile, many young women also knew that their newly acquired English skills could benefit them in their search for a husband. But, as my interviews with these young women show, their association with English sometimes backfires.
In matrimonial negotiations, English is often favored by both parties, but it is becoming a necessity for women. Sometimes it appears to be more explicitly transactional. Young English speaking brides are in high demand for their ability to secure a place in an international higher education institution.
Some have dubbed the phenomenon "IELTS bridesmaids", which refers to young women who have scored high in the International English Language Testing System. But mostly, English's desire for a future wife is more about what it says about her class status and her perceived ability to be part of modern India.
This was the case for Rupal – one of the teachers of the organization – who was in the process of meeting potential husbands with his parents when I met. After attending a school where Hindi was the language of instruction, she joined the organization as a student to develop her English skills.
She was the first member of her family to speak English, and then trained to be a teacher in the same organization. Rupal knew that this could be exploited to find a "better" husband from a more secure middle-class background. Her parents had already rejected a proposal from a young man who had not finished school, arguing that, "My daughter is an English teacher … she is very educated."
The English gave Rupal a form of cultural capital that worked in his favor. It was an advantage that her sister, who had dropped out of education early to help the family financially, was not able to run.
when the British retreated
But, as Ruple told me, "converting" your English capital into marriage appeal was not so straightforward. Rupal was rejected more than once by the families of potential suitors because she spoke English. Because of the extensive links between English, modernism, and Progressiveness, Rupal's language prowess raised doubts as to what type of wife she would be.
Parents of potential matches worried, "She'll control my son, she won't allow him to do anything else, she'll give orders" [him]Instead of giving their advantage in the marriage negotiations, some families took Rupal's status as an English speaker as a sign that his behavior may not be the way they expect from a woman and wife.
Gaining social mobility through the promise of English proved to be a risky investment. Rupal was forced to carefully balance the conflicting demands of "tradition" and "modernity" to show that she was capable of being a respected woman and a good wife. While the inability to speak English can harm both men and women, the risks of speaking English are specific to expectations of womanhood.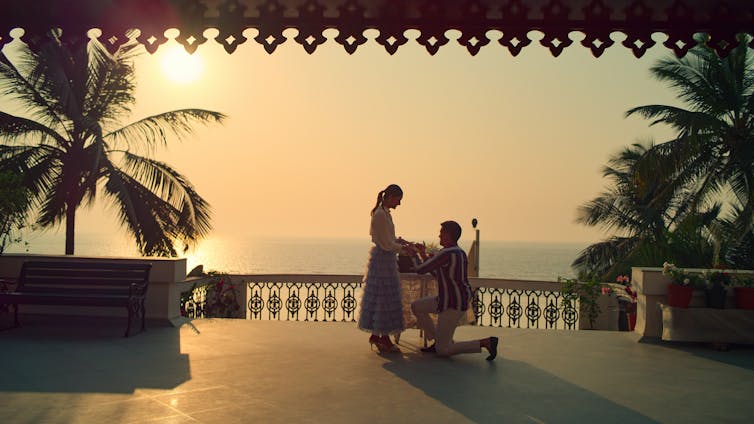 In its first season, Indian Matchmaking was criticized for its silence on the politics of caste, gender, religion and nationalism. It has been equally quiet on the untold dimensions of language on the marriage market, and what some of the languages ​​are spoken socially represent.
The growing demand for young Indians who wish to speak English for the middle class is driven by an often unquestioned acceptance of the usefulness of English around the world. But what this story hides is how English has become deeply entrenched in unequal social stratification through class, caste and gender.
Stories like Rupal show how the list of criteria for potential matches that puts Indian matchmaking headlines is less about "personal preferences", and much more about maintaining social order.