Deputy Chief Minister Tarkishore Prasad inaugurated the film festival organized by Amity University, Patna – Latest Bihar News| Current News of Bihar
Patna: May 13 Inaugurating the film festival organized by Amity University, Bihar Deputy Chief Minister Tarkishore Prasad said that films are a powerful medium for social change. Films, television and mass communication have a profound impact on public life.
He said that India has a proud cultural tradition. India has been in the role of Vishwa Guru in ancient times. This country has faced many upheavals, but even after the struggles, India never lost its moral values. India is the land of God and Bihar is the land of knowledge and science. This holy land has the distinction of being the birthplace and Karmabhoomi of countless great men like Buddha, Mahavira, Chanakya, Chandragupta, Aryabhatta, Dr. Rajendra Prasad, Jayaprakash Narayan. This holy land has been the manifestation site of Mother Sita. Mother Janaki has a great contribution in making Lord Shri Ram Maryada Purushottam and she is revered all over the world for patience and dedication. He said that the workers and workers of Bihar have contributed significantly in the prosperity and prosperity of the country. It has been tamped and groomed. Innumerable glorious themes exist for the subject matter of films based on Bihar.
The Deputy Chief Minister said that on the occasion of 75 years of independence, we are celebrating Amrit Mahotsav. It should be our endeavor to prepare a blueprint for building a New India in the coming 25 years on the golden foundation of the past. Our youth are the future of present India. He said that the strength of the Indian Tricolor has got global recognition due to the efficient guidance and strong leadership of the Prime Minister of India, Shri Narendra Modi, whereas, due to the visionary and developmental thinking of the popular Chief Minister of Bihar, Shri Nitish Kumar, in every field in Bihar, all sections of the people have been educated. Dedicated work has been done. He said that through cinema we need to underline the expression of Golden Bihar and empowered India on the glorious foundations of our past. Our customs have been tightened on the scientific test. The dreams of a golden self-reliant India should be expressed through films while restoring the glorious tradition of its strong past.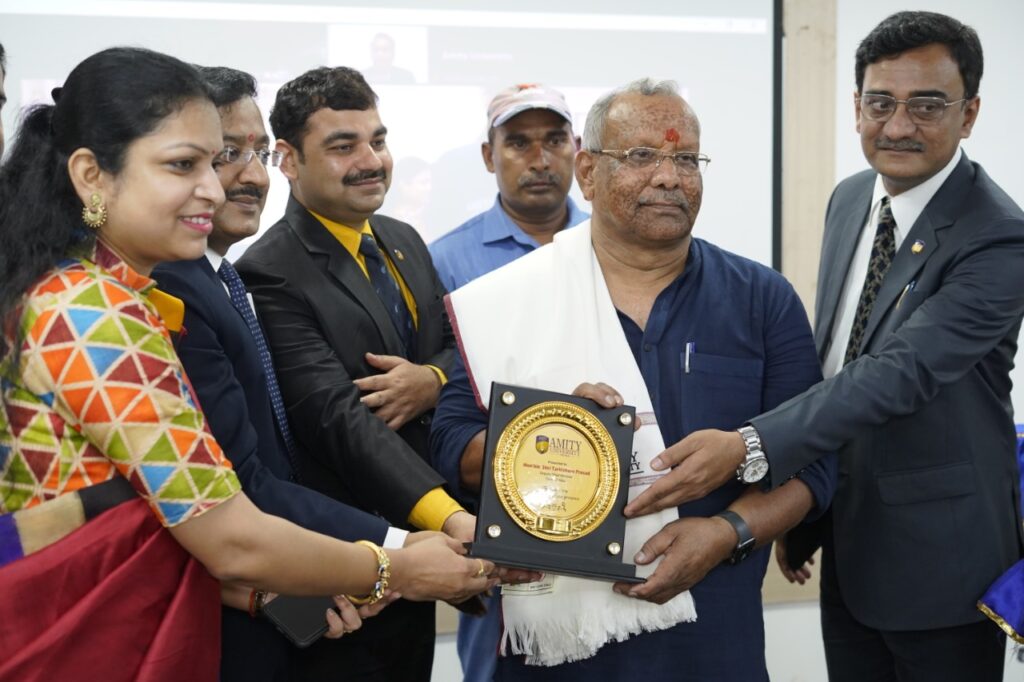 Congratulating the success of this wonderful, well thought-out Amity Film Festival, he said that we are working relentlessly to preserve the rich cultural heritage of this state for the generations to come and create a strong "cultural vibrancy" across the country. Our government, through its strategy of inclusive growth, is committed to make Bihar the best state in India in all dimensions, including infrastructure, health, education and financial resources. He said that the Amity Film Festival would go a long way in producing fruitful results with amazing films and short films by aspiring and budding filmmakers showcasing different aspects of life and its various dimensions. On this occasion, he called upon the participants and students and said that nowadays people seem to be more busy on mobile. This wastes a lot of time. Mobile should be used in the development of intellectual knowledge and ability. Time management is very essential for success in life.
On this occasion, Mr. Gaurav Gupta, Vice President, Amity Group, underlined the importance of a virtual film festival. The Pro-Vice Chancellor of Amity University, Shri Vivekananda Pandey, Professor Shweta Priya, Assistant Director, Amity School of Communication, faculty, staff, students and other dignitaries were present during the program.