irshi Videos News latest,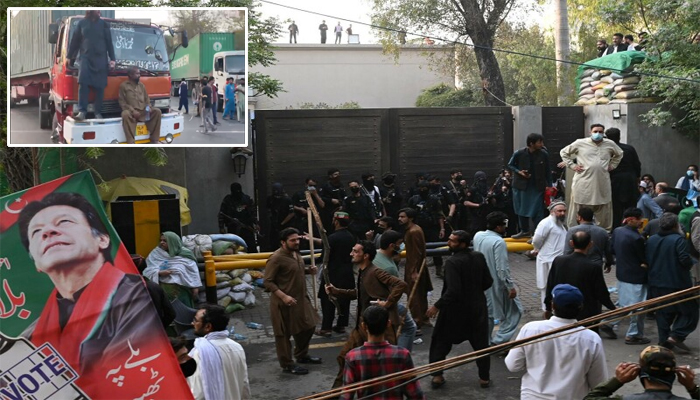 Containers were placed outside PTI Chairman Imran Khan's house in Zaman Park, Lahore.
Pakistan Tehreek-e-Insaf (PTI) workers are present in large numbers at Zaman Park.
There is a tight guard of workers on the roads leading to Imran Khan's house.
The operation was stopped yesterday
It should be noted that the police operation started on March 14 for the PTI chairman was stayed yesterday by Lahore High Court Judge Tariq Saleem Sheikh till 10 am today.
Following orders from the courts and the government, the police retreated.
Reason for suspension of operations
Government sources say that the police stopped the attack because of the PSL match.
Punjab Information Minister Aamir Mir had said in this regard that the operation to arrest Imran Khan at Zaman Park has been temporarily suspended, this operation has been suspended due to the PSL match today.
Zaman Park was a battlefield
Clashes started on Tuesday between the police who came to Zaman Park to arrest PTI Chairman Imran Khan and PTI workers continued till the afternoon of the second day on Wednesday and Zaman Park remained a battlefield.
The police continued to bombard the workers to disperse them while they responded with heavy stone pelting.
58 officials and 8 PTI workers were injured in the clashes while 60 workers were arrested.
Activists pelted police with petrol bombs, damaged property, broke magnificent lights on Mall Road, set fire to water cannons, torched motorbikes of traffic wardens, set fire to and chased the police before retreating.
Meanwhile, during the police operation to arrest Imran Khan, the police of Punjab and Gilgit-Baltistan came face to face.
Yesterday, when the Punjab Police came near Imran Khan's residence, there were gunmen and officials of the Gilgit-Baltistan Police who fired at the Punjab Police, due to which the police had to leave Zaman Park.
Later, the federal government removed IG Police Gilgit-Baltistan Muhammad Saeed and directed him to report to the establishment department.
.