irshi Videos News latest,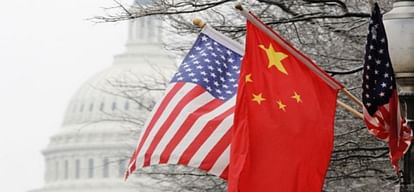 symbolic image.
– Image: Social media
Expansion
US Congressman Mike Gallagher claimed that China is killing 70,000 US citizens every year. Gallagher, who came to Washington to take part in a protest outside the Chinese embassy against China's invasion of Tibet, said China remains expansionist and thirsts for the blood of the innocent. Gallagher told members of the Tibetan community: "Tibetans are victims of a brutal cultural genocide in China, but their courage to fight for freedom is exemplary." China is sometimes attacking US sovereignty with spy balloons and sometimes via an app.
By now, everyone has understood that the US economic relationship with China failed
Congressman Mike said, nobody in America wants a war with China over Taiwan or any other issue, but everyone has understood that America's economic relationship with China has failed. On this issue last year in the US Congress, members of both parties passed the End Fentanyl Act. Accordingly, the United States Border and Customs Enforcement (USCBP) has initiated strict border vigilance and measures to prevent drug trafficking in the country.
Cheater Bill Gates loses extradition case
Pakistani businessman Arif Naqvi, who defrauded many organizations and people, including the Bill and Melinda Gates Foundation, has lost his extradition case in the UK. Naqvi, who runs Pakistan's private equity firm Abraj Group, also bankrupted Pakistan's Overseas Private Investment Corporation. He was arrested in the UK. Naqvi had filed a review petition in the London High Court against the US extradition order. However, the court allowed extradition, while ruling against Naqvi.
IS terrorists kill 35 Christians in Congo
The Islamic State terrorist group has claimed to have killed 35 Christians in eastern Congo. In its propaganda newspaper Amaq on Friday, IS wrote that 35 Christians were killed with knives and guns in the village of Mukondi in North Kivu, Congo. Along with this, pictures of burnt houses were also published. Meanwhile, local authorities and the Allied Democratic Forces, which are battling the terrorists, said more than 45 killings had been carried out in the past week. Let me tell you, violence has been going on in eastern Congo for decades. More than 120 armed gangs are fighting each other here.
Now there are signs of crisis in Bangladesh, Moody's rating is negative
Bangladesh's banking sector has been jittery over the decision by international rating agency Moody's to downgrade its rating. Moody's has downgraded Bangladesh's banking system to negative from stable. Economists and financial experts have seen this decision by Moody's as a blow not only to the banking system but also to the already troubled Bangladeshi economy. Bangladesh is facing problems of devaluation, inflation and dwindling foreign exchange reserves.
Explosion in Afghanistan, one dead and eight injured
A security guard was killed and eight people, including a journalist, were injured in an explosion on Saturday in Mazar-e-Sharif in Afghanistan's Bach province. Interior Ministry spokesman Abdul Nafi said the incident took place in Mazar-i-Sharif. Three children are also among the injured. Sajjad Mosavi, the injured journalist, said that a program was organized for journalists. During this, there was an explosion. institution
1300 refugees stranded at sea, Italy starts operations
Refugees constantly risk their lives to reach Europe. After last month's accident, 1300 refugees are again stranded in the Calabria region of Italy. The Italian Coast Guard has launched a rescue operation to save them. These refugees were trying to come to Europe from different places. However, it is not yet known which countries they belong to.
,